Beauty is Truth; Truth Beauty
An S2 Flexible Squares layout by bonnechose with art by John William Waterhouse, and a quotation from John Keats' Ode on a Grecian Urn. It is in use as the community's layout.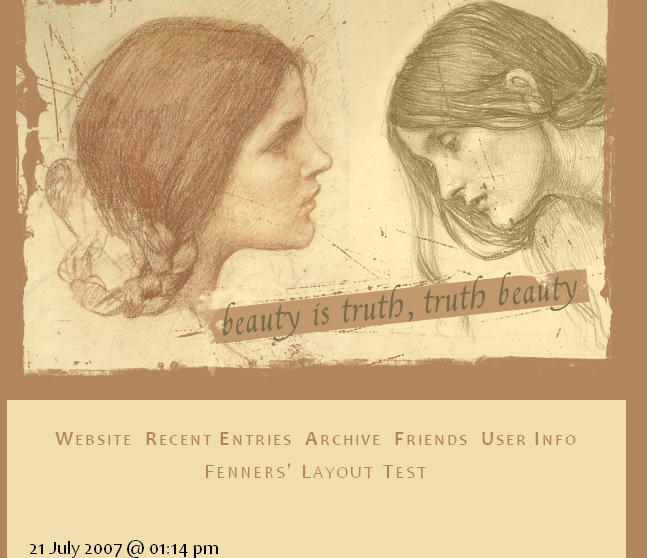 Go to 'Customise Journal' and select S2 on the Basics tab if you haven't already. After that, click on the Look and Feel tab and choose 'Flexible Squares'. Make sure to click the 'Save Changes' button! After that, go to the Custom Options tag and select the Custom CSS section at the top of the navigation. Set the 'Use layout's stylesheet' option to 'No'. Otherwise the colours will not show up properly! Copy and paste the CSS below into the box provided for external CSS. If you've any questions, ask me!

/*---------------------------------------------------
Beauty is Truth
a style-sheet by lj user: sporkins, using cartonage's modified Flexible Squares CSS.
----------------------------------------------------- Cleaned CSS: */
body
{
background-color : rgb(178 , 133 , 92);
text-align : center;
color : rgb(0 , 0 , 0);
font-family : "Candara" , "Trebuchet MS" , sans-serif;
font-size : 11px;
margin : 30px 0 40px 0;
}
a, a:link, a:visited
{
color : rgb(86 , 116 , 185);
text-decoration : none;
}
a:hover
{
color : rgb(122 , 161 , 248);
text-decoration : underline;
}
p, td, blockquote
{
font-size : 11px;
}
code, kbd, pre, tt
{
font-family : "Consolas" , monospace;
}
/*---------------------------------------------------------------------
General page alignment and width
------------------------------------------------------------------------*/
#content
{
width : 587px;
margin-left : auto;
margin-right : auto;
background-color : rgb(240 , 222 , 172);
border-width : 1px;
border-style : solid;
border-color : rgb(240 , 222 , 172);
padding : 15px;
}
#maincontent
{
margin-top : 15px;
font-family : "Candara" , "Trebuchet MS" , sans-serif;
font-size : 11px;
background-color : rgb(240 , 222 , 172);
color : rgb(0 , 0 , 0);
border-style : solid;
border-color : rgb(240 , 222 , 172);
border-width : 1px;
margin-right : 0px;
text-align : left;
}
#sidebar
{
display : none;
}
/*-----------------------------------------------------------------------------
Header - you can add a header image with either #header or .headerimage
--------------------------------------------------------------------------------*/
#header
{
width : 100%;
padding : 10px 0px 20px 0px;
margin : 0px;
text-align : center;
font-family : "Candara" , "Trebuchet MS" , sans-serif;
font-size : 20px;
font-weight : bold;
letter-spacing : 2px;
background-color : #f0deac;
color : rgb(178 , 133 , 92);
Font-variant : small-caps;
}
.headerimage
{
position : relative;
width : 600px;
/* Width of the banner, in pixels */
height : 400px;
/* Height of the banner, in pixels */
margin-left : auto;
/* To left align change to 20px To right align leave as auto To center image leave as auto */
margin-right : auto;
/* To left align leave as auto To right align change to 20px To center image leave as auto */
margin-bottom : 20px;
/* Space between bottom of image and outer box of style */
background-image : url("http://i11.photobucket.com/albums/a176/indusztri/waterhouseheader.png");
/* Header image URL */
background-repeat : no-repeat;
}
/*look and color of links (also partly for footer) for formatting header image */
div#header a, div#header a:link, div#header a:visited, div#footer a, div#footer a:link, div#footer a:visited
{
color : rgb(178 , 133 , 92);
}
div#header a:hover, div#footer a:hover
{
color : rgb(178 , 133 , 92);
text-decoration : none;
}
/*title and subtitle*/
.title
{
font-family : "Candara" , "Trebuchet MS" , sans-serif;
font-size : 16pt;
font-weight : normal;
line-height : 200%;
top : 10px;
}
.subtitle
{
font-family : "Candara" , "Trebuchet MS" , sans-serif;
font-size : 15px;
font-weight : normal;
top : 10px;
}
/* header -- links to views; title of journal; subtitle of journal

-----------------------------------------------------------------------------
Header - top navigation
--------------------------------------------------------------------------------*/
ul.navheader
{
padding : 0px;
margin : 0px;
}
ul.navheader li
{
display : inline;
padding : 0 3px 0 3px;
}
/*-----------------------------------------------------------------------------
Entry stuff
------------------------------------------------------------------------*/
.subcontent
{
Background-color : rgb(240 , 222 , 172);
Border-color : rgb(240 , 222 , 172);
}
.entry
{
margin : 0px 10px 10px 30px;
padding : 7px;
background-color : rgb(240 , 222 , 172);
color : rgb(0 , 0 , 0);
font-family : "Candara" , "Trebuchet MS" , sans-serif;
font-size : 12pt;
text-align : left;
border-width : 1px;
border-color : rgb(240 , 222 , 172);
border-style : solid;
}
.userpic
{
position : relative;
float : left; background-color: 240 , 222 , 172;
padding : 5px;
margin : 10px;
z-index : 15;
}
.date
{
line-height :150%;
top : 5px;
color : rgb(0 , 0 , 0);
font-family : "Candara", "Trebuchet MS" , sans-serif;
font-size : 14pt;
}
.subject
{
font-weight : bold;
padding : 5px;
color : rgb(178 , 133 , 92);
font-family : "Candara" , "Trebuchet MS" , sans-serif;
font-size : large;
Background-color : rgb(240 , 222 , 172);
Background-repeat : repeat;
}
.subject a, .subject a:link, .subject a:visited
{
color : rgb(255 , 255 , 255);
}
.subject a:hover
{
color : rgb(176 , 185 , 200);
}
.datesubject
{
background-color : rgb(240 , 222 , 172);
padding : 5px;
Font-size : large;
}
.entry ul li
{
padding-left : 5px;
margin-left : 15px;
}
.entry ol li
{
padding-left : 5px;
margin-left : 15px;
}
/*---------------------------------------------------------------------
Entry Stuff - Current Mood, Music and Location
------------------------------------------------------------------------*/
.currents, .currentmood, .currentmusic
{
font-family : "Candara" , "Trebuchet MS" , sans-serif;
font-size : 10pt;
}
/*---------------------------------------------------------------------
Entry Stuff - Comments
------------------------------------------------------------------------*/
.comments
{
font-family : "Candara" , "Trebuchet MS, sans-serif;
font-size : 10pt;
text-align : right;
background-color : rgb(240 , 222 , 172));
padding : 0px 5px 0px 5px;
position : relative;
top : 15px;
}
div.comments a, div.comments a:link, div.comments a:visited
{
color : rgb(255 , 255 , 255);
}
div.comments a:hover
{
color : rgb(178 , 133 , 92);
text-decoration : none;
}
/*---------------------------------------------------------------------
Entry Stuff - Separator
------------------------------------------------------------------------*/
.separator
{
/* for formatting separators between entries */
height : 20px;
}
/*------------------------------------------------------------
Special friends page customization
-------------------------------------------------------------------------------*/
.userpicfriends
{
display : none;
}
/*------------------------------------------------------------
Sidebar
-------------------------------------------------------------------------------*/
.defaultuserpic
{
text-align : center;
Background-color : rgb(240 , 222 , 172);
}
.sbarheader
{
padding : 0px 5px 0px 5px;
}
.sbarbody
{
padding : 0px 5px 0px 5px;
}
.sbarbody2
{
padding : 0 15px 0 15px;
}
div#sidebar a, div#sidebar a:link, div#sidebar a:visited
{
color : rgb(86 , 116 , 185);
}
div#sidebar a:hover
{
color : rgb(122 , 161 , 248);
text-decoration : none;
}
/*------------------------------------------------------------
Sidebar - Calendar
-------------------------------------------------------------------------------*/
table.calendar
{
margin-right : auto;
margin-left : auto;
}
.sbarcalendar
{
border-color : rgb(0 , 0 , 0);
border-width : 1px;
border-style : solid;
text-align : center;
font-family : "Verdana" , sans-serif;
font-size : 15px;
}
.sbarcalendarposts
{
border-color : rgb(0 , 0 , 0);
border-width : 1px;
border-style : solid;
background-color : rgb(212 , 220 , 232);
text-align : center;
font-family : "Verdana" , sans-serif;
font-size : 11px;
}
/*------------------------------------------------------------
Sidebar - link box contents and sidebar box titles
-------------------------------------------------------------------------------*/
ul.sbarlist
{
padding-left : 0px;
margin-left : 0px;
list-style : none;
}
li.sbaritem
{
padding-left : 15px;
list-style : none;
}
li.sbartitle
{
padding-left : 15px;
list-style : none;
border-style : solid;
border-width : 1px;
border-color : rgb(153 , 153 , 153);
background-color : rgb(145 , 155 , 173);
margin-bottom : 10px;
margin-top : 10px;
}
/*----------------------------------------------------
footer
----------------------------------------------------------------*/
#footer
{
width : 100%;
text-align : center;
font-family : "Candara" , "Trebuchet MS" , sans-serif;
font-size : 13px;
font-weight : bold;
letter-spacing : 1px;
background-color : rgb(240 , 222 , 172);
color : rgb(rgb(178 , 133 , 920 , 0 , 0);
border-color : rgb(240 , 222 , 172);
border-width : 1px;
border-style : solid;
z-index : 100;
clear : both;
}
ul.navfooter
{
padding : 0px;
margin : 0px;
Background-color : rgb(240 , 222 , 172);
}
ul.navfooter li
{
display : inline;
margin : 0 5px 0 5px;
}
.clearfoot
{
clear : both;
}
/*----------------------------------------------------
Archive Pages
----------------------------------------------------------------*/
ul.year
{
text-align : center;
padding-bottom : 40px;
}
ul.year li
{
display : inline;
}
table.yeartable
{
margin-left : auto;
margin-right : auto;
}
table.yeartable td.yeardate, table.yeartable td.yearday
{
border-width : 1px;
border-style : solid;
border-color : rgb(153 , 153 , 153);
}
table.yeartable td.yearday
{
background-color : rgb(212 , 220 , 232);
text-align : center;
}
td.yearmonth
{
border-style : none;
}
/*----------------------------------------------------
Comments pages
----------------------------------------------------------------*/
.datesubjectcomment
{
background-color : rgb(178 , 133 , 92);
padding : 5px;
margin-top : 20px;
}
.userpiccomment
{
position : relative;
background-color : rgb(240 , 222 , 172);
top : -30px;
left : 0px;
padding : 5px;
margin : 10px 10px -20px 10px;
z-index : 15;
float : left;
}
.box
{
padding : 10px;
clear : left;
}
input, textarea
{
background-color : rgb(240 , 222 , 172);
color : rgb(0 , 0 , 0);
}
textarea.textbox
{
width : 100% ! important;
}
.reply
{
position : relative;
margin : 20px 30px 10px 30px;
padding : 25px 10px 10px 10px;
text-align : left;
font-family : "Candara" , "Trebuchet MS" , sans-serif;
font-size : 12pt;
line-height : 125%;
background-color : rgb(240 , 222 , 172);
color : rgb(0 , 0 , 0);
}
.replytosubject
{
font-weight : bold;
}
.commentreply
{
position : relative;
margin : 10px;
font-size : 12pt;
font-family : "Candara" , "Trebuchet MS" , sans-serif;
color : rgb(0 , 0 , 0);
}
.commentbox
{
padding : 10px;
margin : 10px;
background-color :rgb(240 , 222 , 172);
}
.datesubjectcomment a:link, .datesubjectcomment a:visited
{
color : rgb(255 , 255 , 255);
}
.datesubjectcomment a:hover
{
color : rgb(178 , 133 , 92);
}
.commentboxpartial
{
padding : 10px;
margin : 10px;
background-color : rgb(178 , 133 , 92);
}
.commentinfo
{
background-color : rgb(240 , 222 , 172);
margin-top : 10px;
width : 100%;
}
.skiplinks
{
text-align : center;
}
/*--------------------------------------------
Misc
-----------------------------------------*/
.clear
{
height : 15px;
}